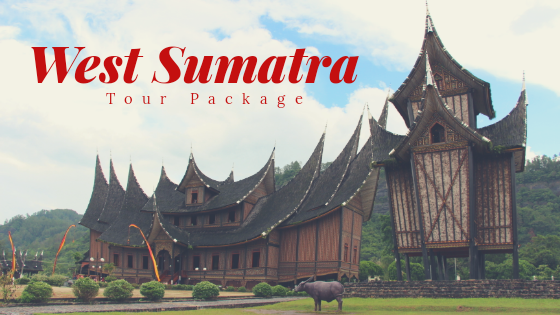 Overview
Before planning for your West Sumatra Tour Package, you must know that nowhere on earth will you find a place as diverse and contrast as West Sumatra. West Sumatra or well know as Ranah Minang rife with natural beauty has a list of unending idyllic beaches, vivid green terraced rice fields, lush rainforest, and stunning sunsets and sunrise. The list doesn't end here as there are so much more to see and experience in this magnificent paradise! Visitors can expect water-based adventure, unique architecture, creative arts, trekking, and exotic cuisine here. Going to West Sumatra feels like a never-ending adventure as there is an activity to suit every soul.
The Province of West Sumatra might be smaller than North Sumatra or Aceh, but it has plenty of points of interest and incredible things to do, which cannot be covered in a single visit.
By knowing the unique offerings of West Sumatra, you can plan a more efficient West Sumatra Trip.
To help you figure out what to do and where to go, here is a list of some of the West Sumatra's best highlights.
Beaches in West Sumatra
Pasumpahan Island
Pamutusan Island
Sirandah Island
Pagang Island
Adventure in West Sumatra
West Sumatra has a great variety of challenging and fun activities waiting to be discovered that will fuel your adrenaline rush. There are options from white water rafting, volcano hiking, surfing, snorkelling and much more.
Sunrise trek to Mount Marapi
An early morning hike up Mount Marapi is one of the most popular adventure activities in West Sumatra. The reward is spectacular views of the sunrise! Mount Marapi is among the active volcanoes in West Sumatra, but it is worth a visit accompanied by a certified local guide
Standing tall at 2891 m above sea level (9,400 ft).
Camping at Telaga Dewi Mount Singgalang
Singgalang is a beautiful and scenic volcano, and unlike its neighbour, Marapi, it is old and extinct. Within the crater of the volcano is a beautiful know as Telago Dewi.
The volcano is one of the two peaks rising south of the city of Bukittinggi. The other volcano is Marapi volcano.
Standing tall at 2877 m above sea water level. Singgalang is climbed much less of the than its sister peak, Mount Marapi, so the trails are rougher and harder to follow. A local guide may be useful in locating the trail.

Nature in West Sumatra
West Sumatra landscape is packed with some of the most beautiful creations. Its natural wonders range from the central highlands with active volcanoes to hidden waterfalls, peaceful lakes, forested mountains, coral gardens and abundant marine diversity.
Discover Pariangan Rice Terrace
One cannot afford to miss the scenic Pariangan Rice Terrace in Tanah Datar Regency that has extensive terraced rice paddies. You are in for the most spectacular sight when you visit these paddies between October to March, right during the monsoon when it turns into an intense sea of greenery.
Explore Mandeh
Art and Culture in West Sumatra
Quick West Sumatra Facts :
Currency used : Indonesian Rupiah.
Languages spoken : Minangnese and Indonesian are the most widely spoken languages in Bahasa Minang. As a tourist, you can get away with English in most parts of the West Sumatra.
Best time to visit : The best time to visit West Sumatra is between May to October during the dry season (summer), which is also the peak tourist season. November to March is the wet season (monsoon) and is also a good time to travel to West Sumatra. Located 3 degrees south of the equator, West Sumatra experiences a warm tropical climate. Average year-round temperature stands at around 31 degree Celsius with a humidity level of about 75%.
How to reach West Sumatra: Padang is the main gate to explore West Sumatra. The best way to get there is by flight. Many domestic flights connect to Padang. For international flights you can start from Kuala Lumpur, Malaysia.
West Sumatra Tour Package FAQs
Q. Is West Sumatra a safe destination to travel?
A. West Sumatra is fairly a safe tourist destination, even for solo female travelers. There is little violent crime in West Sumatra. However, as a visitor, be careful while crossing the roads as motorbikers swarm the streets. Swimmers should be mindful as not all the beaches are safe because of riptides. Be cautious against pickpockets and scams. The threat of volcanoes, tsunamis and earthquakes are always there, but so far, West Sumatra has not faced any outright devastation. It's still business as usual in this tourist hotspot.

Q. For how many days should I book a West Sumatra tour package?
A. A West Sumatra travel itinerary is usually of a week or six nights and seven days duration. If you are for the first time on holiday to West Sumatra, you can cover almost all the highlights of this province during this period. West Sumatra Tour Packages can also be customised as per your requirement.

Q. What is a good time to visit West Sumatra?
A. The dry season (summer) starting from May and ending in October is the best time to plan a West Sumatra tour. Also a peak tourist season, the weather at this time is the best to explore West Sumatra attractions and enjoy different tourist activities.

Q. What languages do they speak in West Sumatra?
A The main languages spoken in West Sumatra are Minangnese, Indonesian and English. Tourists can go about in English at all major tourist places. But in remote parts, locals might not speak and understand English, and an interpreter or translator would be required.

Q. How to pack for a West Sumatra vacation?
A As Indonesia is a tropical country, you should bring light cotton clothes, sunglasses, sunscreen lotion, comfortable walking sandals if travelling between May to October during summer. For the rainy season between November to March, it will be useful to carry a raincoat/ umbrella and a waterproof jacket.

Q. Is it safe to hike up Mount Marapi?
A Mount Marapi is still an active volcano, which last erupted in 2004, and it is strongly recommended that you go for the climb only with a certified local guide. That said, when it comes to mountain treks in West Sumatra, Mount Marapi is the most popular destination. First of all, the slopes are not steep and arduous, so even amateur trekkers can tackle them. Second, it only takes three and a half hours to reach the peak of Batur compared to seven or eight hours to reach the summit of Mount Singgalang. Thirdly, the sunrise views from its vantage point are breathtaking.